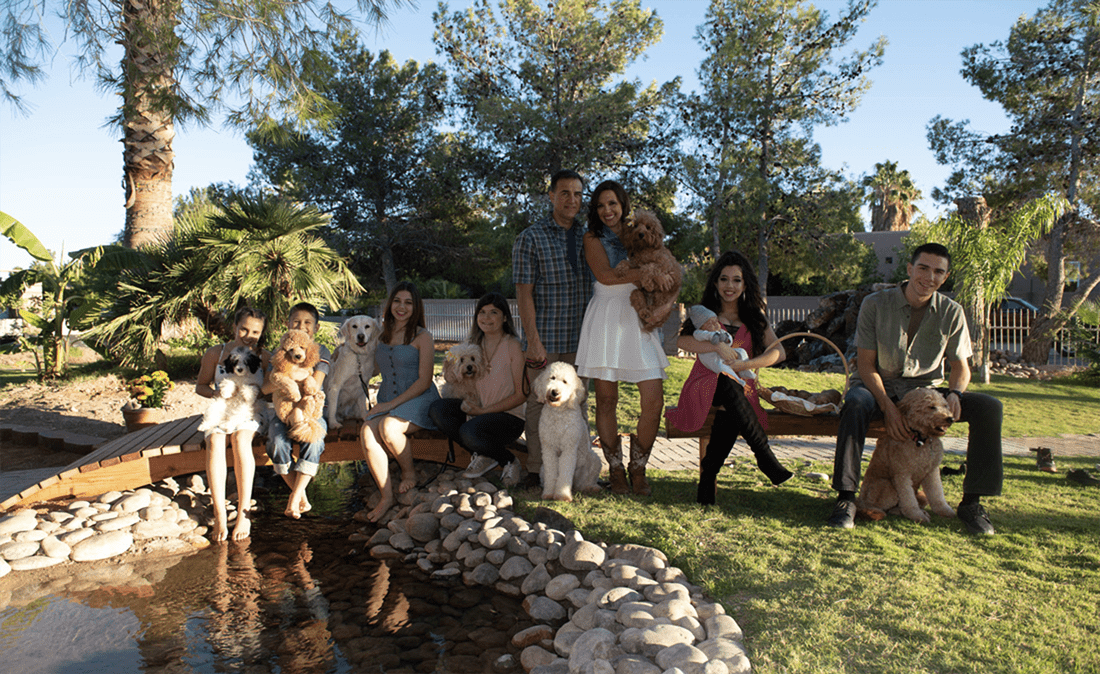 Raised beneath the blue skies and warm sun of Southern Nevada, we recently relocated back to the same mountain-rimmed valley to continue raising our four children and an ever-expanding family of Goldendoodles!
We had spent the previous 10 years in the Rocky Mountains of Colorado. It was there that we discovered that our third child suffers from pet allergies. With all of us in agreement that our family would simply not be complete without a fun, four legged companion to share our many adventures with, we began to seek out the best family friendly, hypo-allergenic breed in existence.
Not long after our search began, we welcomed our first Goldendoodle into our active, growing family. It was love at first sight and as it turned out, a perfect match for us!
We found that the combined attributes of the much loved Golden Retriever and the always popular Poodle made for a winning combination: loyalty, intelligence, playful spirit, gentle disposition and a beautiful hypo-allergenic coat, just to name a few!
People would often stop and ask us what breed our dog Sweetie was, and we were happy to enlighten them. We always had so much fun talking about the amazing breed of dog we had discovered.
Our Doodle Sweetie brought our family so much joy that we decided it would be a whole lot of fun to be able to share that joy with the many other families out there that were seeking the same special companion we were.
We caught a vision and Sunshine Doodles was born!
"My husband and I couldn't have had a more magical and perfect experience with Sunshine Doodles. Lisa is incredibly communicative, kind and professional. Sunshine Doodles raises healthy, beautiful dogs and is dedicated to finding happy forever homes for their puppies. The puppy playdates offered future owners like ourselves an opportunity to interact with the puppies and observe their personalities and special characteristics."

Goose: Chelsea
"I wanted to send you some photos of Phoebe so you could see how much she has grown and what she has been up to.
She is the center of our lives and we couldn't love her more! We can't remember a time when she wasn't in our family...even though we have only had her for around 5 months. We are enjoying lots of lovely hikes and visits to the beach with her. She goes pretty much everywhere we go -coffee, weekend brunch, a glass of wine...she is always snuggled up at our feet. When we do leave her, we can't wait to come home to see her and be greeted by her unconditional love and eagerness."

Phoebe: Laleh & Eddy
"Prior to actively searching for a companion dog for myself, I did extensive library and internet research in order to choose the breed that was the best match for my lifestyle and living situation, and also to find a reputable breeder, someone whose integrity, knowledge and professionalism I could trust. My search came to a happy ending when finally I spoke with Lisa Puckett at Sunshine Doodles as she placed little Ellie Ray with me. At Sunshine Doodles website, you will find a wealth of helpful information."

Ellie: Steph
"We are totally enchanted with our puppy, Purple Girl or now Mimi (Miette, French for sweet little thing and I am nutty for French things). Anyway, she is all that was promised and more! So friendly, curious, smart, brave, eager to please, easy-going and fun! She learns things fast, usually it takes ONCE and she gets it. Like she is able to use our doggie door with no problem. It will be much more to her liking when she gets bigger, I am sure; but she gets it and uses it when she wants to come in and I am still messing around outside. I look up and there she is looking at me out the sliding glass door! We have had very few accidents inside."

Mimi: Connie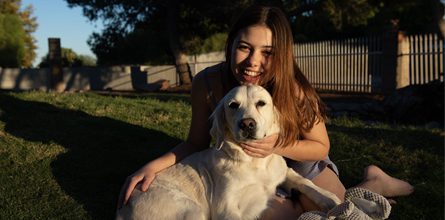 Have Questions?
Contact us today!